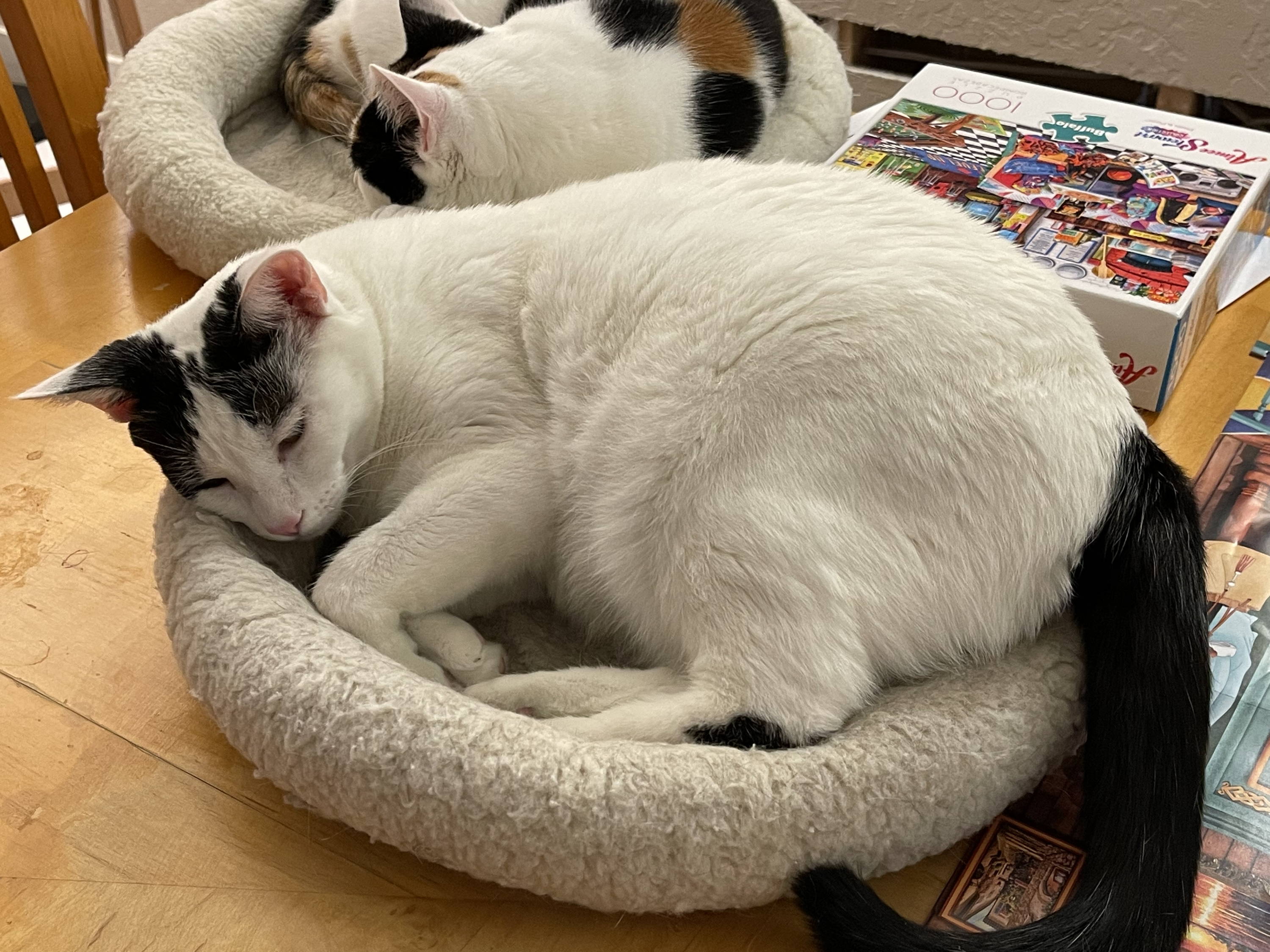 Princess working hard, with Katniss in the background.
Genius Book Publishing has its origins in a sincere and fervent love of books. Our founders, Steven and Leya Booth, are both avid readers. Leya even has a Master's Degree in Library and Information Science.
Steven got his start in publishing on his high school newspaper, where he was assigned to be the layout artist in a new technology called Desktop Publishing. Twenty years later, in September 2011, a life change required Steven and Leya to both work from home. By then, Leya was working as a virtual teacher, and Steven needed a business that would allow him to work from home. A friend (we're looking at you, Harry Shannon!) discovered Steven was "technical" and asked him to make an ebook for him. When that worked out, Harry sent more business our way.
Then Steven and Harry wrote the first Sheriff Penny Miller novel, The Hungry, together, and they were considering shopping it around to publishers or self-publishing. The decision was made to create a publishing company for the book, and Genius Book Publishing was born. The Hungry became a seven book series, and was a massive success (at least in terms of the early days of self-publishing). Since then, Genius Books has published over 60 titles in genres ranging from horror to mystery-thrillers to true crime to coffee table books about music, photography, and history.
We are true crime enthusiasts and want to read amazing books on the subject. We are seeking true crime books that feature good storytelling as well as accurate and unique representations of the facts. We don't want sensationalism; we want the truth in all its awful beauty. And if that means our books don't have easy answers or convenient endings, that's just fine. Sometimes a story needs to be told that has no ending. Not every mystery gets wrapped up within the covers of a book. Life isn't convenient and simple, and neither are the books we publish.
For Other Nonfiction Authors
If you look at our catalog, you'll find a variety of nonfiction outside the true crime genre. To date (Spring 2020), we've been taking on quite a few image-heavy nonfiction projects. Sales, memoirs, music industry projects, coffee table books. Does that mean your nonfiction project has to look like that? No. What we do want you to see is that we're open to a variety of projects. If you think it's a good fit, submit.
Not surprisingly, we also like fiction. We started out as a horror press, and we still have many of those titles under contract. We're interested in a variety of genres, though not everything. Mystery, thriller, horror, general fiction, all of those are a good fit for us. High fantasy may be a tough sell, unless it's something accessible (think Guy Gavriel Kay). And if you're a romance author, you may need to find a different home. We honestly wouldn't know what to do with it. If you can't tell if your book fits in with this list, contact us and ask. Depending on the project, we're open to quite a bit.
Our Approach to Publishing
Our team has created some of the best books in our genre. We partner with our authors for publicity and promotion, seeking media interviews, speaking opportunities, and other public outreach that will benefit the authors, the media, and the readers.
Steven W. Booth, CEO and Publisher
Steven is an author, artist, publisher, and entrepreneur. He has earned a BA in Economics/Business and a minor in History from the University of California at Santa Cruz, an MBA in Nonprofit Management from the University of Judaism in Los Angeles, and a Master's in Teaching from National University. The author of eight novels, he is also an avid oil painter, having created one or two paintings every week since late 2015.
Leya Booth, COO and Editor-in-Chief
Leya is an avid fan and consumer of true crime. She has earned a BA in Psychology from the University of Judaism in Los Angeles, California, and a Master's in Library and Information Science from San Jose State University in San Jose, California. She has also earned credentials in general and special education and has worked as a school librarian, special education teacher, and school administrator since 2001. For eleven years, she owned and operated Genius Office Services, a transcribing and editing company. She likes reading children's and young adult fiction as well as true crime topics. Leya and Steven have been married since 2000.
Our feline staff currently consists of seven helpers, whose primary responsibilities are interrupting meetings, cuddling, and shedding, not to mention fulfilling the critical role of standing on the keyboard when we're typing something terribly important. They are Mouse, Katniss, Roo, Panda, Chewbacca, Princess, and Bear.